Regular gym-goers are sure to have noticed muscly guys tossing back a protein shake straight after their workout. It's true that many bodybuilders use whey protein to assist with building muscle.  But don't be fooled by this stereotype, whey protein can also be a useful aid in weight-loss.
When using supplement, whey protein can help to improve muscle protein synthesis and promote the growth of lean tissue mass.  There is also some evidence to show that drinking whey protein can help retain muscle mass and lose fat.
Protein can boost energy expenditure by 80–100 calories per day, and make people automatically eat up to 441 fewer calories per day. In one study, eating 25% of the daily calories in protein cut cravings by 60% and reduced the desire for late-time snacking by half.
Taking whey protein is a great way to increase your protein intake, which should have major benefits for weight loss.
Studies have shown that replacing other sources of calories with whey protein, combined with weight lifting, can cause weight loss of about 8 pounds (3.5 kg) while increasing lean muscle mass.
Protein has been shown to aid weight loss by boosting metabolism and reducing appetite. Whey protein can help increase fat loss while preserving lean muscle mass.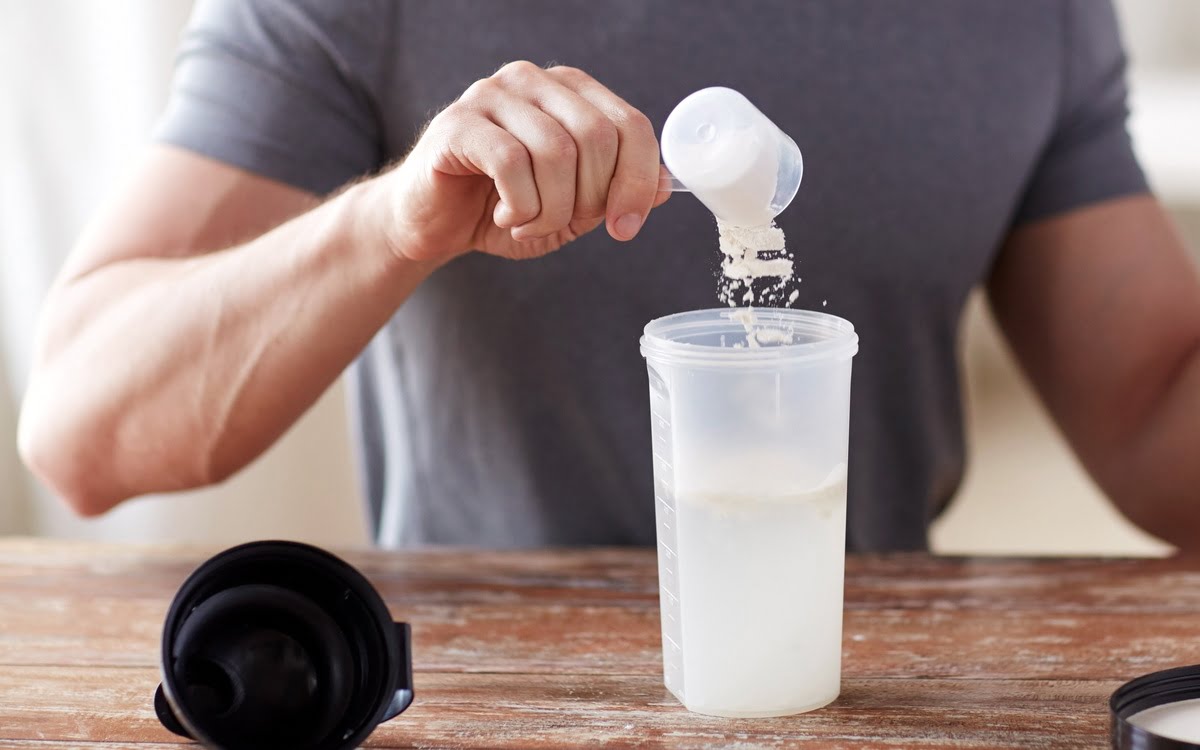 The First Thing You Need To Consider Before Try Using Whey Protein For Weight Loss
The first thing you must ask yourself is if you can manage your daily schedule if you eat only one real meal each day. A protein shake isn't a meal, it's a meal replacement. It can be a shock to your system to go from eating three meals a day to drinking two of them.
You should also consider how long you can maintain this type of liquid diet. A sensible diet will result in losing 1–2 pounds each week. So, for example, if you have 40 pounds to lose that means you'll face at least five months of eating this way.
Here Is Our Suggestions For How And When To Use Whey Protein For Weight-Loss
As a meal replacement – add into a smoothie

As a snack replacement – mix with just water or water with a dash of milk

Before going out to eat – mix with water (to help with satiety and prevent overindulging)

After a workout – mix with water
Meal Replacement
Many people are in a rush at breakfast and then struggle all day when they miss this important meal.  A great option is to whip up a breakfast smoothie you can consume on the go.  Create a blend using liquid, protein powder, some fats like avocado and fruit and/or vegetables so it is both nutritious and filling.  This makes for a convenient, nutrient-dense way to fuel up.
Keep in mind your overall macro-nutrient goals (protein/fats/carbohydrates) when creating your own mix.  Below are a couple of suggestions but if you have the basic idea you can get creative!
Nutrient-dense breakfast smoothie – In a blender mix 1 cup milk, 1 scoop of vanilla flavoured whey protein, a handful of baby spinach leaves, 1/3 cup of frozen raspberries, a handful of ice.
Quick breakfast smoothie – In a protein shaker mix 1 cup water, dash of milk, 1 scoop of chocolate flavoured whey protein, ½ teaspoon peanut butter, 1 scoop of instant oats (or leave out if following a low-carb plan).
Combo Whey Protein With Exercise
Exercise is an important part of being healthy and just changing to protein shakes alone isn't likely to help you lose weight and maintain it.   Therefore, we recommend combining resistance training with whey protein for anyone looking to lose weight.
Men can have one or two 30g scoops per shake.  Women on a weight loss plan should stick to one 30g scoop of whey protein.  The beauty of a protein shake is for most people, it is easier to get down after a hard workout than eating the same amount of protein in a whole food.
Frequency & Diet
It isn't a good idea to replace all your meals with whey protein in an effort to lose weight.  Instead, you should be thinking of whey protein as a convenient form of protein that can be used to supplement your whole food diet.  It is important to continue eating whole foods, even when your goal is weight-loss, to ensure an adequate intake of vitamins, minerals and fiber in your diet.  It's also important to create healthy eating habits you can maintain once you reach your goal.
As such, during a weight loss program we recommend using supplements only once per day.  Occasionally twice per day is ok.  Once you have reached your weight goal, you may simply consume whey protein after a workout to help with recovery and maintaining muscle.