Details
25 GRAMS

OF PROTEIN

5.5 GRAMS

OF BCAAs

11 GRAMS

OF ESSENTIAL AMINO ACIDS
ON ISOLATE
100% OF THE PROTEIN FROM WHEY ISOLATE
Single Protein Source is Whey Protein Isolate
25 Grams of Protein Per Serving
5.5 Grams of Naturally Occurring BCAAs
11 Grams of Naturally Occurring Essential Amino Acids
Just 1 Gram of Sugar & 1 Gram of Fat Per Serving
Gluten Free & Banned Substance Tested
OPTIMUM NUTRITION TRUE STRENGTH
True Strength is a journey. It never rests, it never quits. It's about overcoming obstacles, accomplishing goals, and recognizing achievements. And then it resets to achieve again. As your trusted sports nutrition partner in goal achievement, ON demonstrates that same passion while crafting our products. From the raw materials we source to our state-of-the-art manufacturing processes, no compromises are made. You set the bar higher after every workout, we set the bar higher to redefine the industry standards and ensure you realize optimum results.
ULTRA FILTERED FOR EXCEPTIONAL PURITY
ON Isolate is a single source protein made only with whey protein isolates. Sophisticated separation processes 'isolate' out much of the fat, cholesterol, sugar and other components that active adults don't need in their sports nutrition. This leaves you with a 120 calorie whey protein shake you can use first thing in the morning, before endurance training or after hitting the weight room. You'll appreciate how easily the powder mixes into cold water or milk, and how consistently delicious your favorite flavor tastes shake after shake.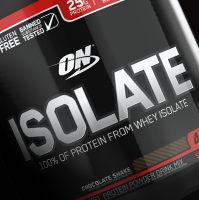 THE LEADER IN SPORTS NUTRITION QUALITY & INNOVATION
ON is one of the few companies to own and operate state-of-the-art manufacturing facilities that are GMP compliant. They also maintain in-house research and development, quality assurance and microbiological laboratories. You give it everything you've got to achieve ambitious goals. That's why ON is constantly setting the bar higher for sports nutrition excellence.
IDEAL USAGE OCCASIONS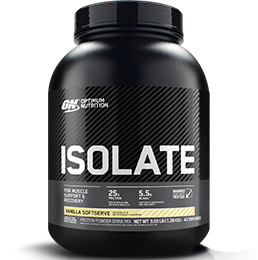 Be the first to review this product
© 2015 - 2017 Nutrition Pro. All Rights Reserved.